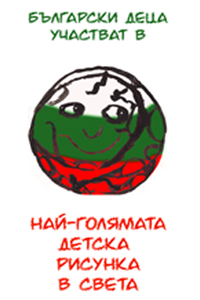 In 2012 The Biggest Children's Drawing was exposed during the Olympic Games in London. The drawing was composed of pictures of children between the age of 4 and 6 all around the world. A project of Earth Identity Project - Japan.

The Bulgarian piece of the world children's mosaic is drawn by 18 children from the kindergarten at the National Education Complex in Culture and Italian Lyceum.
The official ceremony on occasion of the closure of the project in Bulgaria was on 30.03.2011.
Dr. Stefania Dimitrova radio interview for the project

With the kind support of United Bulgarian Bank(UBB) and Alpha-Omega publishing house.